Here is a link to the Chilean Navy's web-page illustrating the arms of their naval vessels and establishments.
http://www.armada.cl/armada/tradicion-e-historia/heraldica/a/2014-05-19/122543.html
Noteworthy is that the arms of the warships include the arms or pseudo-arms of the people whose names they bear (at dexter chief). Thus FF05 "Almirante Cochrane" bears the arms of Admiral Sir Thomas Cochrane, Earl of Dundonald and Marquis of Maranhäo. Appropriately the frigate is a former RN frigate.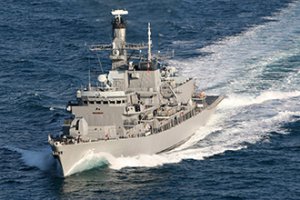 http://en.wikipedia.org/wiki/Thomas_Cochrane,_10th_Earl_of_Dundonald