Grand Duke Jean of Luxembourg, who abdicated in 2000, has died at the age of 98.
G-D Jean's arms as a stranger Knight of the Garter.
Note that G-D Jean's quarters are the reverse of his son's.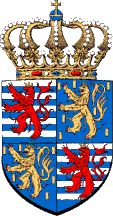 There is an explanation here:
http://luxembourg.public.lu/en/publications/f/ap-armoiries-gdl/ap-armoiries-gdl-2006-FR.pdf
Perhaps someone who is
au fait
with the royal houses that practice abdication (PS: who can name them all?) can tell us whether the former monarchs/Grand Dukes maintain undifferenced arms, or whether they have some form of difference. This would have been unnecessary in G-D Jean's case as his son fundamentally changed his arms for dynastic reasons.