Today is the last day of the Giro d'Italia, a time-trial from the northern outskirts of metropolitan Milan. The route is virtually flat for its entire 30km/18 miles in to Piazza Duomo in the city centre.
The arms of
Senago
, where the stage starts are these.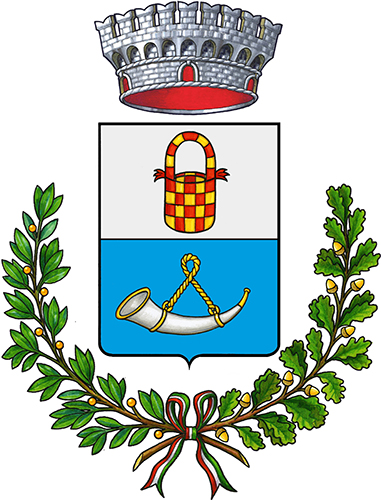 Blazon: Troncato: nel primo d'argento, al cesto scaccato d'oro e di rosso; nel secondo d'azzurro, al corno da caccia d'argento.
The basket in the upper half of the arms is from the arms of the Marquises of Manriquez, originally from Spain, where baskets are a not uncommon charge. Spain ruled Milan from 1525 to 1706, so one of the Marquises may well have been an important figure in Milan, though not its governor according to the list I have found.
The route passes through the commune of Sesto San Giovanni, once referred to as the Stalingrad of Italy because of its inhabitants' adherence to the Italian Communist Party.
Blazon: D'argento, al castello torricellato di due, di rosso aperto e finestrato del campo, sormontato fra le due torri, da un compasso al naturale.
As we discovered earlier at Sesto Fiorentino, the arms are canting because "sesto" means compass.
The arms of Milan itself are the red cross on a white ground that is common among the cities of Lombardy.
Blazon: D'argento alla croce di rosso.
The Lombard Alliance was formed in 1167 by 18 of the northern Italian cities to fight the Holy Roman Emperor Frederick I "Barbarossa", whose army had destroyed Milan after a siege lasting two years. The cities banded together under the banner of St George, the original of which had been given to Erembaldo, Capitano del Popolo of Milan, by Pope Alexander II in 1066 (another was given to Duke William of Normandy shortly before he invaded England - hence England's use of the flag of St George down the ages). As we have seen a number of times before, the cross of St George subsequently came to be associated with many of the cities with a Guelphic allegiance.